How to invite friend(s)?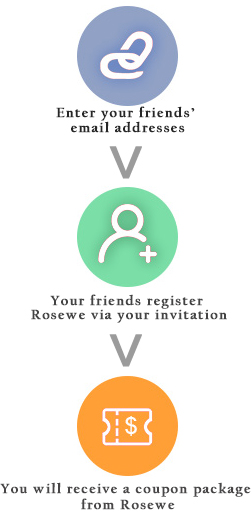 Enter your friends' email addresses to refer them to Rosewe

The invitation rules
1. After your friend registers on Rosewe successfully via your invitation, both you and your friends will receive additionally a $49-5, a $79-10 and a $99-15 coupon.
2. The friend you invite has to be a new user of Rosewe; users with the same email address or hardware equipment are deemed as an identical user;
3. You are not suggested to register with the same IP address, or you cannot obtain the coupon;
4. Rosewe has the right to terminate or cancel the relevant deals if improper means are found used to gain rewards.
5. Rosewe reserves the right of final interpretation.
When can I get the coupon?
Once your friends have registered Rosewe successfully, you'll receive your coupon package.The coupons will be sent to your Rosewe account directly.